Computer Cuisine Deluxe 8.1
The ultimate Mac & Windows Home Recipe database software and organizer solution
Computer Cuisine Deluxe is the award winning recipe organizer to help you manage your entire cooking recipe collection on Mac or Windows, including macOS Sierra. With Computer Cuisine Deluxe you can view, sort, print, email, search, share and manage your entire recipe collection either on your home computer or on your iPhone or iPad. With easy-to-use menus, and 1,001 recipes included, Computer Cuisine is the best recipe management tool at either at home or on the go!

Mac & Windows compatible
Compatible with macOS Sierra
Enter your personal recipes with ease
Free iOS companion app for iPhone & iPad
Create shopping/grocery lists
Create a meal planner to plan recipes for the week
Print grocery coupons at home with ease
Spell check as-you-type for error free recipe entry
Customizable pull-down menus to avoid repetitive entries
Photo tab to include photos for each recipe
Video tab to easily embed multiple videos for each recipe
Nutrition tab to include dietary information for each recipe
Conversions menu for easy calculations
Multiple text cleanup functions to fix fonts, colors, double-spaces, etc.
Search popular recipe web sites with one click
Find duplicate recipes easily to delete if needed
iOS recipe information adjusts for multiple iPhone sizes
Print recipes in multiple sizes including 3×5″ cards
Backup your recipe collection with one click
Optionally backup your recipe collection to Dropbox
Check off shopping list items as you go in the supermarket on your iPhone
Custom spelling dictionaries that learn as you go
1,001 recipes included to get your started
Detailed User Guide included to give you tips & tricks
Free Demo download to try before you buy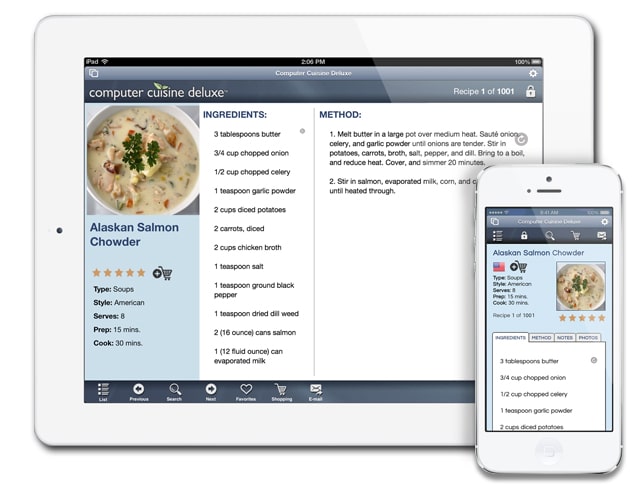 MAC or WINDOWS…or GO MOBILE WITH THE FREE APP!
Computer Cuisine Deluxe is a desktop application available for both Mac OS X & Windows, including macOS Sierra. However, unlike other recipe programs out there that either don't even have an iOS app, or charge extra for their app, Computer Cuisine Deluxe has a totally FREE companion app (FileMaker Go) which allows you to have your entire recipe collection in your pocket!
With Computer Cuisine Deluxe 8.1, the app will now adjust your recipe viewing/listing for larger iPhone devices like the iPhone 6/7 or iPhone 6/7 Plus. And right from your iPhone or iPad, you can search, email, and view your grocery list with ease. In fact, you don't even need network coverage or data usage to view your collection…it's right there on your phone, and it's free!
OVER 25 YEARS OLD!
You heard that right and that's not a typo! I'm Mike, and I created Computer Cuisine Deluxe way back in 1990 where it began as a hypercard template to help my mother store her home recipe collection. In fact, Computer Cuisine Deluxe is the longest running recipe application for the Mac, and has expanded into a Windows version and a companion iOS app for iPhone and iPad. That's really saying something. Computer Cuisine Deluxe has stood the test of time, and has come a long way!
So in an age when things come and go, or you might be afraid to invest in an recipe application that might hold your important recipe data in some odd proprietary format, well, never fear. I've always released Computer Cuisine Deluxe with the idea that your recipe data is yours. Computer Cuisine Deluxe always allows you to export your recipes in the most popular universal format possible, a tab or comma-separated csv file, and more.
So along with the fact that Computer Cuisine Deluxe has been around for over 25 years, it's not going anywhere. So please give it a whirl, and download the free demo to see if you like it. It would make my mom (and me!) happy knowing that people around the globe are using something she inspired. 🙂
COFFEE ANYONE?
Unlike other software companies which may have a team of people working in a corporate environment, for over 25 years, Computer Cuisine Deluxe was, and has always been, shareware created single-handedly by me, Mike. 🙂
Coffee helps fuel my insomnia, and my insomnia helps fuel the development of Computer Cuisine Deluxe.
So any contribution to my coffee addiction is well appreciated, and in return here's my favorite coffee-related joke below, cheers!
Q: How Did the Hipster Burn His Tongue?
A: He drank his coffee before it was cool. 🙂
Waiting for PayPal...
Validating payment information...
Waiting for PayPal...
Thank you for supporting the development of Computer Cuisine Deluxe!