ANSWER: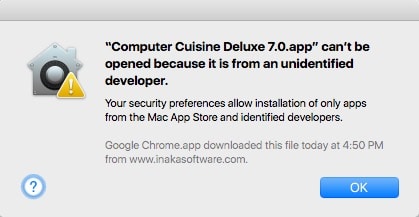 If you are seeing this message, that's actually a good thing. Apple wants your computer to be safe, so you won't install malicious software, and in doing so, they attempt to have all apps and developers register their apps with Apple.
Apple really wants all Mac OS X applications to be sold through their App Store. Some say this is for added security, and some say it's a financial money grab so Apple can take a cut of all software sales. (I'll let you determine which it is.) That said, Apple doesn't allow applications like Computer Cuisine Deluxe to be sold on their App Store since it's a database application built with FileMaker, and they don't allow FileMaker databases, even though FileMaker is owned by Apple (strange isn't it?) So it's a bit of catch 22. Well, my name is Mike, and I've been developing Computer Cuisine Deluxe for over 25 years, and I can assure you this isn't malicious software at all.
STEP-BY-STEP ANSWER (Only have to do this once):
NOTE: Computer Cuisine Deluxe is not supported by macOS Sierra at this time (support coming soon)
Open your downloaded Computer Cuisine Deluxe Folder, and locate the Computer Cuisine Deluxe 7.0.app file.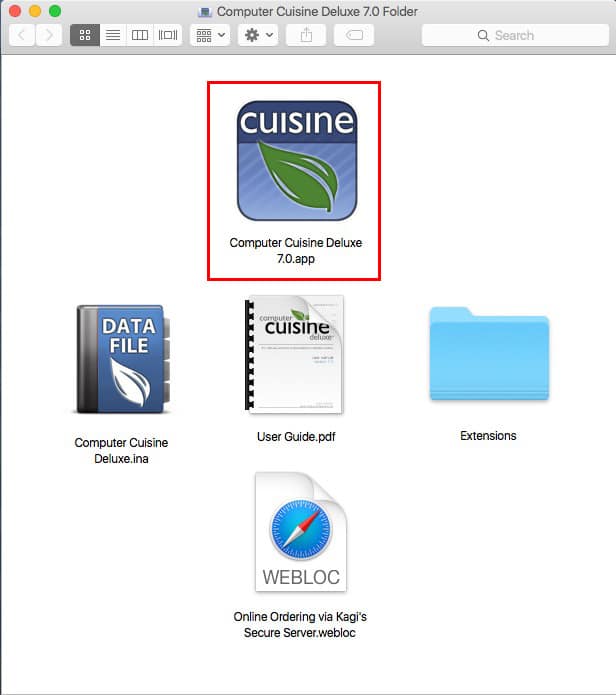 2. Instead of double-clicking on this folder to launch Computer Cuisine Deluxe, control-click (or right-click) on the Computer Cuisine Deluxe app icon, and select Open. (Control-clicking just means to hold down the Control button on your keyboard, while clicking once on the Computer Cuisine Deluxe app icon.)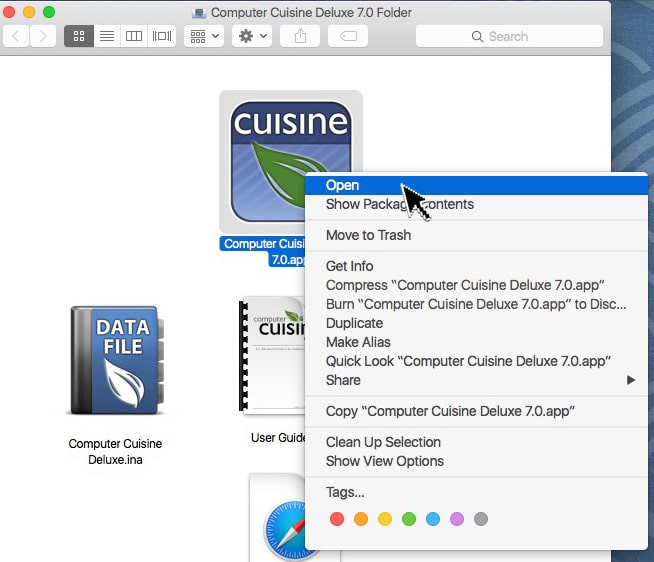 3. You will now be presented with the same alert that Computer Cuisine Deluxe is from an unidentified developer, however now there will be an Open button which will allow you to open Computer Cuisine Deluxe. Simply click on the Open button, and launch Computer Cuisine Deluxe. You will never have to do this again, as Computer Cuisine Deluxe will now be verified on your system. Enjoy!
4. As an added security measure, some Mac OS X systems may give you an additional warning/confirmation that Computer Cuisine Deluxe was downloaded from the Internet, and they want you to be sure you trust it. Simply click Open to proceed.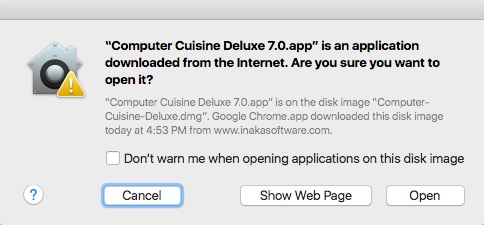 5. That's it!