ANSWER:
If you DO have custom recipe photos in your collection there is just an added step (see at the bottom)
The upgrade process from version 6 to a later version is very easy. However, as with any upgrade process, please backup your data and never delete anything until you have completed the process.
Simply do the following:

1. Launch the older Computer Cuisine Deluxe version 6 and select
Tools > "Backup All Recipes (Tab-Separated Text; No Photos)…"
(This places your recipe backup data file called "RecipesBackup.tab" on your desktop.)

2. Launch Computer Cuisine Deluxe 9.0, and select:
Tools > "Import Recipes from Computer Cuisine Deluxe 5 or 6 backup .tab file…"

3. Locate your previous database file on your Desktop from the selection window.
Select it and click Open.
NOTE: Be sure to select "All Available" in the "Show" pull-down menu otherwise your database file may be dimmed and not selectable. It will look like this: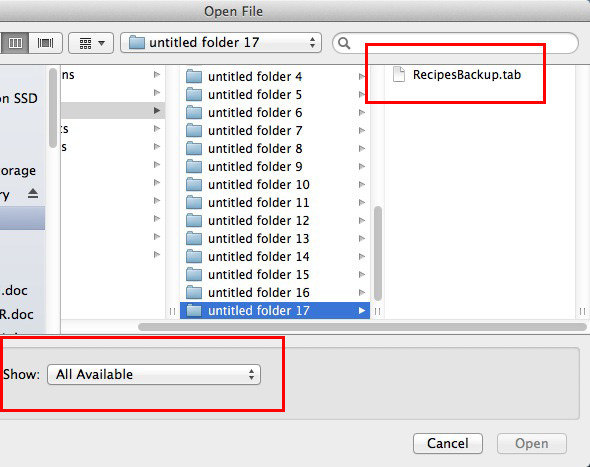 That's it!

Once you select your previous database, Computer Cuisine Deluxe will go through each and every recipe and import every piece of recipe data. This process depends on the speed of your computer, and the amount of recipes in your collection.
__________________
Computer Cuisine Deluxe
The ultimate Mac & Windows Home Recipe software and home recipe cooking organizer database